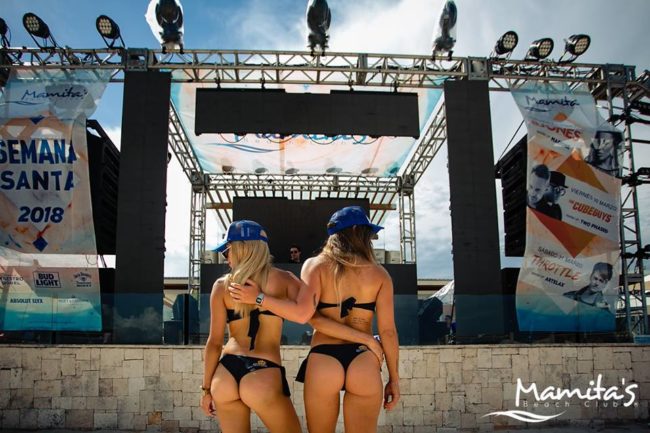 If you are looking for the best places to meet girls in Playa del Carmen with a dating guide then we have you covered. If you have a few minutes to spare you can learn all about where you pick up single women in your area and also some great spots for a date night.

The nightlife is where we always start before talking about where to meet single Playa del Carmen girls during the day or how you can use online dating to your advantage. Local date night spots and cool casual stuff to do in the area will also get a mention.
Mexico can be a really fun place to travel and we have lots of tips to share with you here.
Nightclubs & Pick Up Bars
We might as well kick this off with a list of singles bars and nightclubs to pick up Playa del Carmen girls:
The main area for singles nightlife would be along Calle 12 and also Calle 10 pretty close to Mamita's Beach. Some may be wondering about Avenida 5 which is the main thoroughfare through the city, but many of the best places to try and get laid are just off it on Calle 12.
When it comes to trying to hook up with girls in Playa del Carmen's nightlife for singles things can vary greatly depending on when you are in town. Just like most touristy beaches you are going to need a little luck on your side to be here at the right time.
One weekend there might be tons of hot single women in your area from around the world visiting who are hoping to get laid. The next weekend it might be all married couples, you really never know.
But if you spend enough time out in the nightlife around Calle 12 and 10 you should have a good shot of hooking up while here. If you go out a few nights in a row and there isn't much to your liking you could see what is going on in Cozumel or go party with girls in Cancun instead.
Meet Playa del Carmen Girls During The Day
Now is the time for us to mention Avenida 5, aka Calle Quinta Avenida. As we just discussed this is the main thoroughfare through the city and it should have tons of single women walking along it all day and night.
Any cafes, bars, or shops along it would be prime areas for day game. Of course the obvious place to try and pick up Playa del Carmen girls near you during the day would be at Mamita's Beach and all of the day beach clubs you find around it.
Plenty of the venues we listed in the singles nightlife section will also be open during the day. Last but not least you can attempt to meet single girls at malls and shopping districts like:
Centro Maya Shopping Mall
Quinta Alegría Shopping Mall
Plaza Las Américas
Plaza Playacar
Calle Corazón
Chat With Girls Online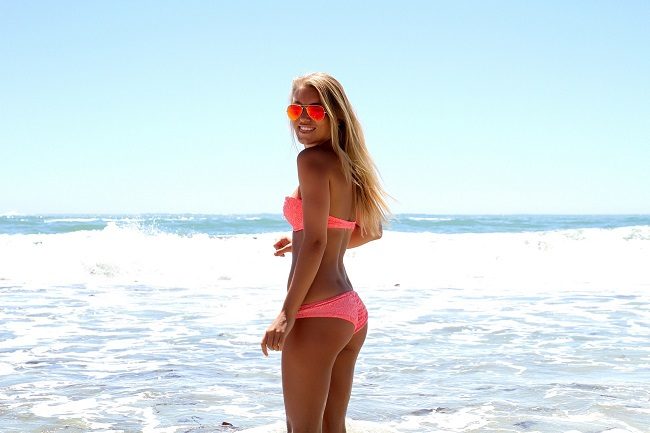 Where would we be right now without online dating? Let's face it guys, these are some weird times for our species as technology is getting hard to keep up with.
You probably didn't travel here by riding a horse, we bet you flew. If you get hungry you don't cook a meal or go to a restaurant, you open up an app and get delivery.
There are countless examples of technology saving us time while making our lives easier, but few would argue it hasn't had some negative impacts as well. Just ask yourself this: when was the last time you saw a good opportunity to approach a sexy girl near you?
You don't often see them walking anywhere, they open up an app then order a ride. If you do see them during the day they likely have headphones on making it super awkward for you to go over and say hello.
You can still go to bars and nightclubs to meet single Playa del Carmen women, but more often than not they will be with a group of friends that they stick to like glue. For an hour or two they take selfies and shoot videos to post on social media and then they leave with the group they came with.
You aren't the only ones who are noticing this guys, all single men are. The best way to adapt is to use technology to your advantage with online dating.
If you are hoping to hook up with girls in Playa del Carmen when you are in town there is a way to make that a lot more likely: online dating. So what is the best online dating site to use here? Mexican Cupid.
This will allow you to show up to town with numbers saved in your phone instead of putting all of your eggs in the singles nightlife or day game baskets. Why leave it up to chance when you can use Mexican Cupid to meet women online before you arrive?
That way you can have some women ready and waiting to go on a date when you get into town. If you leave it all to chance you might be sitting around half empty bars at 3am watching other dudes leave with company as you walk out alone.
If you are reading this while planning a Spring Break trip and want to start the party early see if there are any wild girls near you using Adult Friend Finder. It is a great way to hook up with a one night stand or find a long term friend with benefits all over the US.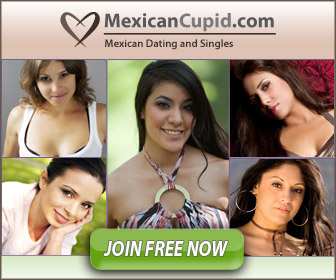 Playa del Carmen Dating Guide
Now you know about the best places and ways to meet singles near you so we want to pivot to our Playa del Carmen dating guide. Any time you can show a girl a good time on your date night your chances of getting laid skyrocket.
Any of these romantic restaurants and cocktail bars should work pretty well:
After you have a nice meal you could go for a romantic walk along the beach or go party at any of the bars and clubs we listed in the nightlife section.
Day Date Ideas
Obviously the main place most girls in Playa del Carmen are going to want to go is the beach, if you get bored of Mamita's Beach head over to Playa Tucan. Some other places to take advantage of nice weather outdoors together are:
Los Fundadores Park
Rio Secreto
Cenote Chaak Tun
Portal Maya
There are also some theme parks like:
Plus you have all sorts of water sports like scuba diving, snorkeling, riding wave runners, deep sea fishing and the like. To get a little taste for the culture here you could also go to:
3D Museum of Wonders
Frida Kahlo Museum
Mayan Ruins in Tulum
If you really like the Mexican culture and want to see a more casual city click here and read about Guadalajara. Or for some other spots off the beaten gringo path see if you can have any success dating women in Chihuahua or Merida.
Tips For Tourists & Expats
Most people that visit this city never go outside of the touristy area and we aren't going to tell you that is a bad strategy. Everyone knows about the violence in Mexico, well if you stay in the touristy area you should hopefully be fine but once outside of it who knows.
The best time of year to visit is from December through March, but peak season also will come with higher prices and overcrowded beaches. On the plus side it also means more girls visiting Playa del Carmen for a holiday that may be hoping to get laid on their trip.
To improve your chances of hooking up book a hotel near Mamita's Beach, try to be as close to Calle 12 and Avenida 5 as possible. Women in your area know about the dangerous reputation of this country, if you ask them to hop in a taxi to the other side of town it might lead them to back out.
On the other hand if you say my hotel is right around the corner they will have no reason to do so. Oh ya, the current exchange rate when we recently updated this page is about 20 pesos for every dollar.
Enjoy Dating Playa del Carmen Girls
OK guys, we feel like we have covered this local beach town as well as we can. Please share any of your own tips and correct any out of date information here in the comments.
Also don't forget about the single women near you on Mexican Cupid who may be looking to hook up with some foreign men. That wraps up our best places to meet girls in Playa del Carmen with our dating guide, enjoy your time here.