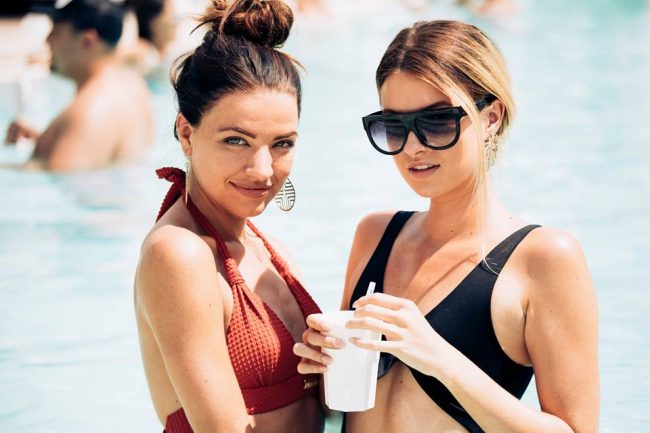 If you are looking for the best places to meet girls in Ibiza with a dating guide then don't worry, we have you covered. It won't take long at all for us to fill you in on where to pick up single women near you and take them on a date night here.

We will start things off with the world famous nightlife, then move on to meeting single Ibiza girls during the day plus how you can use online dating sites to avoid the overcrowded party scene if you want. Local date night ideas and all sorts of casual things to do during the day will also be discussed.
This is a very popular party destination which means there will be lots of competition around trying to hook up in your area. But after reading this you should be ahead of the game.
Nightclubs & Pick Up Bars
Here is a list of the top singles bars and nightclubs to pick up Ibiza girls:
There are a few areas for singles nightlife here and they are a bit spread out but not too bad. There are some places to try and hook up with girls in Ibiza Town but a short ride away you will find better nightlife and more sexy women near you partying in Playa d'en Bossa.
Then on the opposite side of the island about 20 or 30 minutes away there is a great bar district at The West End Strip in San Antonio. If you have similar goals to most guys and want to spend most of your time partying and trying to get laid get a hotel near Playa d'en Bossa or that bar strip in San Antonio.
While there is plenty of singles nightlife spread around the island you can still maximize your chances of finding a one night stand by staying in the best party hot spots. It definitely needs to be pointed out that the nightlife here runs very late into the night which is common when partying in Europe.
Also, many of the best nightclubs and quite a few of the bars will be closed outside of peak season. They will often have opening events in early May and closing parties in early October.
July and August would be the busiest months, expect tons of single men out and about trying to hook up with any sexy girls they see. Some guys may like the chaos, others may think they have a better chance of getting laid outside of those two peak months. This is the same riddle you face when trying to pick up single ladies in Mykonos.
You may also read about different clubs and wonder where they are like Cocoon or Black Coffee, these are just club nights at the popular places we listed above. You can find out about more club nights and upcoming events by checking the Spotlight Calendar.
Meet Ibiza Girls During The Day
This is one of those times where you really don't want to overthink things. Why do single girls go to Ibiza? Because they want to enjoy the beach, the nightlife, and maybe hook up.
Well when the sun is up they are likely going to be doing one of three things: sleeping, tanning at the beach, or going to a day club. You can walk around the streets to try and pick up girls in Ibiza Town, San Antonio or near Playa d'en Bossa. Or hit up beaches like Las Salinas and Talamanca.
Better yet go to some of the more popular day clubs to try and meet single women in your area like:
Then there are some good places to shop that will also bring them out like:
Mercat Nou
Parque Maquinaria Ayto Ibiza
Ibiza Centro
ART Centre Comercial
Shopping In Ibiza
While there should be plenty of tourists around who speak English if you want to hit on the locals you better know how to seduce them in Spanish.
Chat With Girls Online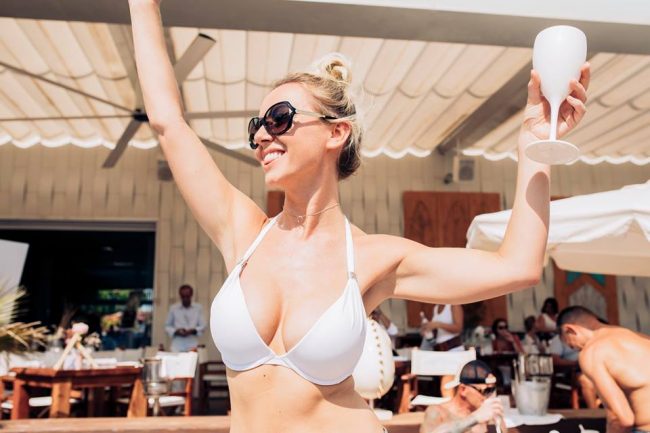 Can we ask you something? How are you really supposed to meet girls near you in person these days? We know what you are supposed to do, but doesn't it feel like things have really changed over the past decade?
It feels like every time you see a hot Ibiza girl she has headphones on and is avoiding eye contact with everyone else on the street. Are you really supposed to  go over and try to get her to stop listening to the music to hear what you have to say?
How about when you go out to a nightclub and there is a group sexy ladies in your area partying at a private table together? You observe the scene for a bit and notice that every guy who tried to pick them up ended up walking away solo in under a minute.
Most girls near you are far more interested in shooting Instagram stories then mingling with the crowd or hooking up. Do you still head over? You might as well, but the odds are pretty slim.
This is what it is like for single men right now, and many are struggling to adjust to the times. The best thing you can do is find your way onto a girls cell phone, and the best way to do that is online dating sites.
They are a much more efficient use of your time than any other pick up method without a doubt. No traveling to party towns and no standing in long lines to pay a big cover charge to get rejected.
Just log on and start sending out messages. For guys who want to find a long term relationship there are numerous sites to choose from, but what about the guys who just want to get laid without telling a girl they love her?
Adult Friend Finder is the answer. This site is all about hooking up and it is far more popular around Europe than you may believe.
There are around ten thousand women using Adult Friend Finder to get laid in Spain. You will find some girls in Ibiza using it to hook up, and are just as likely to find more in your home town.
The quicker you adjust to the current climate the sooner you will be getting laid.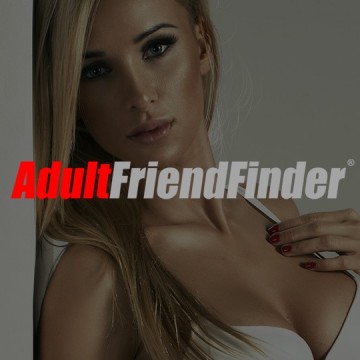 Ibiza Dating Guide
After covering all of the great nightlife and where to meet single girls near you we need to pivot to our Ibiza dating guide. This is a very romantic place so finding a good spot for a date night won't be hard.
Any of these romantic restaurants or cocktail bars should work out very well for you:
Cap off your Ibiza date night at any of the nightclubs we listed above, or just take a casual walk along the beach holding hands.
Day Date Ideas
Once again you don't want to overthink this. If girls come here to enjoy the beach then take them to one of these on your day date:
Cala Comte
Cala Olivera
Benirras
Cala Carbo
You could go snorkeling at Cala Xarraca, take a hike to Es Portitxo, or visit nearby islands like Es Vedra and Formentera. If you really want to pamper your date then treat her to a relaxing day at one of the numerous spas around.
If you find an awesome girl and want to go somewhere a little more casual for a romantic weekend together try Seville, or if you want to take her to another beach try Marbella.
Enjoy Dating Ibiza Girls
Like most summer beach party towns this one will be really wild during peak season, outside of the summer months it may not even feel like the same place. If you are just traveling here to try and hook up with sexy ladies just remember that many other guys have the same plan.
During July and August are going to be super crowded with lots of hungry men out there trying to get laid. May, June, and September will be less chaotic, but there will also probably be less girls around.
Don't forget about all of the single women near you using Adult Friend Finder to get laid in Spain. That wraps up our best places to meet girls in Ibiza with our dating guide, enjoy your time here.