If you are looking for the best places to meet girls in Xi'an with a dating guide you do not need to search any longer. We have plenty to share about where you can pick up single women in your area and also many great date night ideas to break down for you.

The local nightlife will be the starting point before we discuss where you can meet single Xi'an girls during the day and which online dating site will work best here. Date night ideas and all sorts of fun things to do at any time day or night will also be mentioned towards the end.
If you are a tourist or expat who is new to trying to hook up in China we will also have some brief travel tips at the end.
Nightclubs & Pick Up Bars
We know that many of you just want a quick list of singles bars and nightclubs to pick up Xi'an girls so here it is:
1+1 Disco at Xi San Dao Xiang, Zhong Lou Shang
Salsa at 6 West Av., Lianhu
Diwang Club at 231 East St, Beilin
Papaya Club at No. 62 South St, Beilin
De Fu Lou Café & Bar at 39 De Fu Xiang
Vice Versa at 9 Xianning Xuexiang Lane, Zhong Lou Shang
Carats Jazz Bar & Coffee at 26 Feng lane, S Main St
The Belgian Bar at Sanxue St, Zhong Lou Shang Quan
Park Qin at 2 Shuncheng South Rd West, Zhong Lou Shang
Helen's Bar at Taihe Plaza 2 Fl, Beiliu Lane
The main area for singles nightlife is at the Defu Bar Street near South Gate. This is where you will find the highest concentration of bars and clubs to search for a one night stand.
Guys who hope to hook up with Xi'an women after dark will definitely want to do a lot of partying there. You will find other bars and clubs spread around the city, but the Defu Bar Street is the easiest place to go on a night out.
Helen's is an international student bar so if you want to meet girls in your area from other countries to potentially get laid with check it out. Some of you may be interested in traveling to other cities to meet girls, if so try Zhengzhou.
Meet Xi'an Girls During The Day
The Defu Bar Street might have some early partiers also, but it is definitely more of a nightlife area. In a massive city like this the downtown streets will always be full of single women near you, but they will be pretty chaotic so they may not be the best for picking up.
The old reliable would be to try and meet Xi'an girls at malls and shopping districts like:
Saga Shopping Mall
Wanda Plaza
Parkson Mall
Kai Yuan Shopping Mall
Century Jinhua Mall
Chat With Girls Online
Since this post is in English we are kind of directing it towards foreign men, but this resource will work just as well for local guys. Traveling is always a lot of fun but many single men have figured out it can help them do more than just see the sights. There is just something about being in a foreign country that makes it easier for you to get attention from the local ladies.
For some guys this means it is easier to get laid with a girl they just met at a bar or club. Others may speak the language and be able to day game, but many have realized online dating is an amazing resource that they have to take advantage of.
At the Defu Bar Street you might flirt with a few girls near you on a night out, when trying to meet women during the day you may approach a handful, but with online dating your options are basically limitless. Copy and paste a friendly message to as many single girls in Xi'an as you find attractive and wait for the replies.
The best dating site in this country is ChinaLoveCupid and you won't regret checking it out. There is no need for getting all dressed up, wasting time in line at a club, and then paying a bunch of money on drinks.
Just chill in your room and start to meet far more local women than you can any other way. If you live here log on now and try to meet girls in Xi'an online to set up date nights as soon as you are ready.
When planning your trip here start setting up some contacts so you have single women waiting for your arrival. ChinaLoveCupid will help you get in touch with so many girls that hooking up will be way more likely.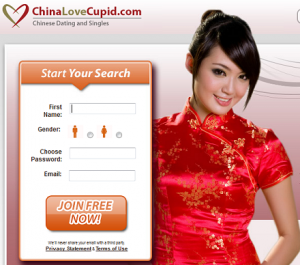 Xi'an Dating Guide
After reading all of the above you know where to meet single girls near you and it is time to pivot to our Xi'an dating guide. If you hope to hook up on your date night you need to be able to show her a good time.
Any of these romantic restaurants or cocktail bars could do the trick:
The Tang Dynasty at 75 Chang'an North Rd
Cyclist Restaurant at 25 Huangcheng East Rd
Dolce Vita at Sofitel Legend Grand Hotel, 319 Dongxin St
Xi'an Hotel Restaurant at 298 East St, Zhong Lou Shang
Shang Palace Restaurant at Golden Flower Hotel, Lianhu
De Fa Chang at 74 Youyi W Rd, Beilin
Gran Melia Restaurant at Gran Melia,  1666 Qujiangchi W Rd
Haidilao Hot Pot at 30 Xiguanzheng St, Lianhu
Cinnamon Pink at 14, Tian Shui Jing Jie
Lapis Thai at G Park 47, Xinghuo Rd, Lianhu
Take Five at No.18, Tai Yang Miao Men St
After you grab a nice meal you have a few options, one of which is going to party at the Defu Bar Street nightlife area. Tang Paradise is beautiful at night, you won't find a more romantic place for a date night in the city then that.
Or you could go watch a live performance at the Shaanxi Folk Art Theatre.
Day Date Ideas
There is just something about a sunny day that will put a big smile on a girls face. Some good outdoor spots here would be:
Lianhu Park
Xingqinggong Park
Tang Paradise
Plus you can find a lot of cool landmarks and museums around the area:
Xi'an Museum
Mausoleum of Qin Shi Huang
Shaanxi History Museum
Giant Wild Goose Pagoda
Banpo Museum
Xi'an City Wall
Bell & Drum Towers
When you find the right girl and want to take her away for the weekend try somewhere unique like Dongguan or Changchun.
Tips For Tourists & Expats
We aren't going to go full Lonely Planet on you here but there were some things we wanted to share before we go. They will help with the travel part of your trip, and who knows maybe even play a hand in you getting laid as well.
The local currency is the yuan which traded at about 6.5 for every US Dollar as of our latest update. You can use the metro system to get around town quickly and cheaply, remember to try to book a hotel room near the Defu Bar Street if you hope to hook up with Xi'an girls you meet in the nightlife.
Having a nearby room will make it so much easier for them to say yes and leave with you. As far as dating or trying to hook up with Chinese girls goes obviously the language difference is going to be a major issue.
However some women will have enough of an interest in foreign men that it might not hold you back. Just remember you don't need to 'game' them like you do western women, and most pick up advice you may have read may do more harm than good.
One reason so many westerners love traveling to this part of the world is that all that most of the girls in your area want is for you to be a nice guy who they feel comfortable around. Be nice, smile a lot, and keep an upbeat mood while you are together.
If you raise your voice or have a stern face the whole time it will really hinder your chances. Have fun, be kind, and they will want to spend more time with you.
One last thing, download the WeChat App which is what everyone in this country uses to text.
Enjoy Dating Xi'an Girls
OK guys, we feel like we have covered this town as well as we can. China is not an easy country for us to keep up with so if you notice any bars or clubs we posted are no longer open be sure to let us know so we can keep our lists fresh for everyone.
There are also plenty of single women near you on ChinaLoveCupid just waiting for guys to message them. That wraps up our best places to meet girls in Xi'an with our dating guide, enjoy your time here.